Forst Wheeled Wood Chippers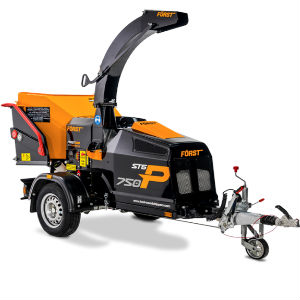 ST6P was the first Forst to have a petrol engine. It has a Briggs & Stratton Vanguard, 37HP fuel injected V twin engine, it has been tested against the 35hp diesel and the difference in fuel efficiency is marginal. With petrol engines being quicker to respond than a diesel this machine really does chip fast. The engine is quicker to regain maximum revs when the 'no stress' device cuts in, meaning it rips through larger timber quickly and It is a sub 750kg machine. ST6P features Forstgrip feed rollers, wide feed hopper, open flywheel system, AutoIntelligence, variable feed roller speed, robust c section chassis, feed hopper, chute & handle as well as locking hitch. It offers easy access to chamber and anvil, touch button controls, clear 30ltr fuel tank, LED lights as standard and central grease bank.
ST8P is our famous 8"x10" capacity machine which now comes with a 57hp petrol engine to beat the 2019 emission regulations and still give phenomenal chipping performance. It's excellent on fuel consumption too. The Forst ST8 has to be one of the bestselling 8" Woodchippers in Europe. Known for its phenomenal chipping performance and its ability to crush limbs and snap forks the ST8 is a fast and aggressive performance machine. The ST8P brings all of the performance features of the standard ST8 Diesel but with more power under the bonnet and fully compliant with the 2019 emissions regulations.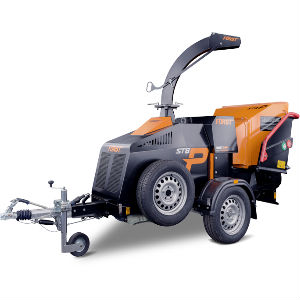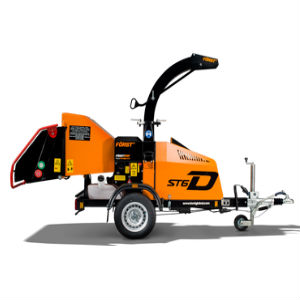 ST6D offers all the performance but low emissions. The original Forst ST6 just got better. Wide hopper at the mouth, 6" x 8" capacity infeed, robust all steel construction and delivering a phenomenal performance yet only producing 24hp from the Kubota 1505 engine. Don't be put off by the horse power number, this machine chips as well as its 35hp predecessor and processes timber better due to its wide hopper. With some clever engineering and changing the gearing we've managed to pull the same performance from a much lower horse power engine which means we don't need the expense or complication of a DPF engine.
ST8 offers simply no comparison or compromise. An industry first, true 8" performance tool combining compact usability with outstanding performance and quality. Boasting the 8"x10" ForstGrip feedroller system, Autointelligence no stress system and a flywheel big enough and with enough inertia to move a mountain this machine will ravage timber. The ST8 really does set a benchmark for all round excellence.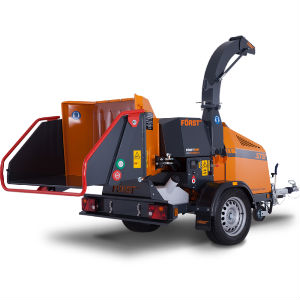 Warranty – Exactly what it says on the tin. Every New Forst Wood Chipper comes with an absolutely guaranteed, no quibble 3 Year Warranty. It's all about making your life and job easy and that's just what the 3 Year Warranty is designed to do. We'll give you an excellent product and an outstanding warranty to make your purchase decision as straight forward as possible.
We won't run away from the fact that we do have issues every now and then, and who doesn't? The difference is that we'll make sure you are supported when misfortune does occur and that you are kept on schedule and working at your best.
Any machine is only as good as the backup and support given by the manufacturer. With Forst you can be assured of a genuine Warranty to back you as well as a rock solid and high performance machine. Forst is the perfect work partner for any arboricultural contractor, tree surgeon, council or hire company. Make no mistake, Forst Wood Chippers are built to stand up to a hard life, and we'll stand beside you all the way.