Forst Wheeled Wood Chippers
The new TT6 shares the same attitude as its petrol powered comrade – the ST6P:  Engine , Chipping Chamber and stunning good looks in spades but the TT6 adds a whole new dimension to the offering with it's 360° turntable making it far more versatile for street work and much safer to use. The punchy 37HP petrol engine never fails to impress with phenomenal performance and amazing fuel economy. The TT6 is extremely compact too –  miles shorter than the average 6" standard chipper when turned 90° and Robust!, with its chunky chassis, a heavy duty ring gear for the turntable and unrivalled chipping chamber and hopper . All the steel fabrications are manufactured to a high standard and finished with the new e'coat paint process (which is what they use to paint cars) and to finish it all – solid GRP panels which are super tough and much lighter than steel.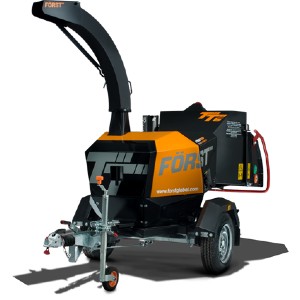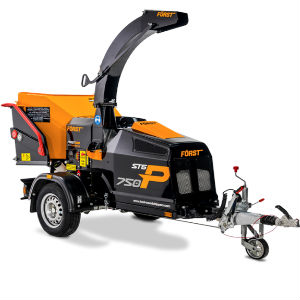 ST6P was the first Forst to have a petrol engine. It has a Briggs & Stratton Vanguard, 37HP fuel injected V twin engine, it has been tested against the 35hp diesel and the difference in fuel efficiency is marginal. With petrol engines being quicker to respond than a diesel this machine really does chip fast. The engine is quicker to regain maximum revs when the 'no stress' device cuts in, meaning it rips through larger timber quickly and It is a sub 750kg machine. ST6P features Forstgrip feed rollers, wide feed hopper, open flywheel system, AutoIntelligence, variable feed roller speed, robust c section chassis, feed hopper, chute & handle as well as locking hitch. It offers easy access to chamber and anvil, touch button controls, clear 30ltr fuel tank, LED lights as standard and central grease bank.
ST8P is our famous 8"x10" capacity machine which now comes with a 57hp petrol engine to beat the 2019 emission regulations and still give phenomenal chipping performance. It's excellent on fuel consumption too. The Forst ST8 has to be one of the bestselling 8" Woodchippers in Europe. Known for its phenomenal chipping performance and its ability to crush limbs and snap forks the ST8 is a fast and aggressive performance machine. The ST8P brings all of the performance features of the standard ST8 Diesel but with more power under the bonnet and fully compliant with the 2019 emissions regulations.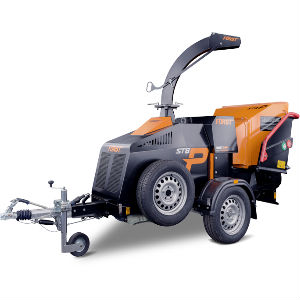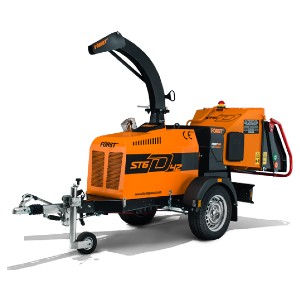 ST6D 42&24 Now with 2 x diesel engine options, a fast, hungry and powerful 42hp Doosan DPF or a 24hp Kubota naturally aspirated diesel. A wide hopper, robust all steel construction & phenomenal performance all come as standard with the 6D series. Simplicity of maintenance with two catches and two bolts to access the service part for the machine. One bolt to remove the anvil. Autointelligence is a simple yet advanced electrical control system taking care of all the electrics on the machine. Historically electrics on plant and machinery are a troublesome – AutoIntelligence overcomes this with a completely water and vibration proof system designed and tested in the toughest environments. This system gives excellent usability and outstanding reliability, it will also make you aware when servicing is due and will recommend routine maintenance.
The ST8D 55 is boasting 55 horse power with a huge amount of torque and phenomenal power, the ST8D 55 makes light work of any type of timber and brash up to 8" in diameter. This is the diesel 8" chipper for the future with it's stage 5 compliant, Doosan DOC engine delivering more chipping speed and efficiency than ever before. This engine coupled with the large Forst 'open top' flywheel and ForstGrip feed roller system make it the 8" chipper of choice for the contractor.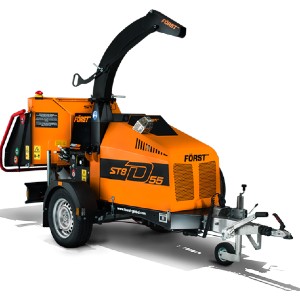 Warranty – Exactly what it says on the tin. Every New Forst Wood Chipper comes with an absolutely guaranteed, no quibble 3 Year Warranty. It's all about making your life and job easy and that's just what the 3 Year Warranty is designed to do. We'll give you an excellent product and an outstanding warranty to make your purchase decision as straight forward as possible.
We won't run away from the fact that we do have issues every now and then, and who doesn't? The difference is that we'll make sure you are supported when misfortune does occur and that you are kept on schedule and working at your best.
Any machine is only as good as the backup and support given by the manufacturer. With Forst you can be assured of a genuine Warranty to back you as well as a rock solid and high performance machine. Forst is the perfect work partner for any arboricultural contractor, tree surgeon, council or hire company. Make no mistake, Forst Wood Chippers are built to stand up to a hard life, and we'll stand beside you all the way.