KERSTEN
Chemical Free weed control
Take a look below at the machine available. Kersten offers the whole spectrum for the area maintenance: various devices for the cleansing of the weeds, for the winter maintenance, the sweeping of surfaces, mowing and mulching, for the cultivation of the soil and the removal of leaves. Kersten is one of the leading providers for site maintenance equipment.
It is a dedicated machine for moss and weed removal. Ideal for block paving, path edges. The advanced hydraulic drive attachment efficiently removes the offending weeds and the detritus it grows in from the surface. The implement can be adjusted in any direction to allow easy cleaning of block paving and undulating surfaces. The position of the head allows easy removal of weeds around buildings or along kerb edges and a mix of brushes give a clean finish.
The K820 and K820 Pro are robust, compact pedestrian two-wheeled tractors, designed to manage smaller sites. The self-propelled machine retains many of the important features that outdoor applications require including sweeping, the collection of material and a side gulley brush, sweeper angling and fine height adjustment. The sweeper/power broom is fully hydraulic which ensures very low maintenance, great versatility and simple operation. The large drive wheels allow the sweeper to negotiate rough terrain and kerb edges and provide a generous surface area to reduce ground pressure. The K820 is at home on an endless range of surfaces including tarmac, concrete, block paving, artificial surfaces as well as natural turf.
The Kersten K1500 provides a professional medium weight hydraulic two wheel power unit. The versatile self-propelled machine features the Kersten Quick-Attach35 system that allows the various implements to be changed in seconds without the use of tools. The K1500 further advances the quest for high operator comfort with low noise and vibration levels A 6.5hp Honda engine and Kersten's own hydraulic transmission system keeps maintenance to a minimum and reliability to a maximum. Attachments for the K1500 include the Kersten WeedBrush, 90cm sweeper with collector and gulley brush, snow plough blade, salt/grit spreader, reciprocating knife mower and a trailing sulky seat. This is the perfect site maintenance machine for schools, colleges, small contractors, housing associations, hire shop, estates etc.
The K2100 is a versatile hydraulic, self-propelled two wheel tractor which will probably exceed your expectations in its design, durability and operation. Finger tip control with fine adjustments for transmission speed and implement speed. The Quick-Attach70 implements are also designed to be versatile. The powered sweepers/power broom may be finely adjusted in so many ways to suit a multiplicity of applications including moss removal, fine dust collection and turf sweeping. The side gulley brush can dramatically improve the appearance of any site. All Kersten sweepers are able to be fitted with a collection system. With lower vibration than its forebears, stronger hydraulic transmission system, a more comprehensive control panel and operator presence control the K2100 is a most versatile machine.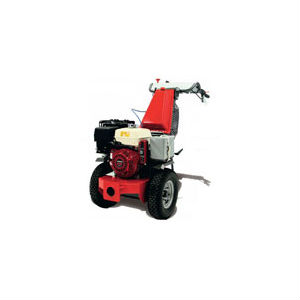 UBS EASY 9
Type: Two Wheel Hydraulic Power Unit
Max. angle: 15 °
Engine: 9hp Honda petrol engine – GX270
Transmission: Hydraulic transmission 12 lt/min pump 160 bar
Travel: Forward and reverse direction with differential 0-6km/h
Axle load: 300Kg.
Handlebar: Adjustable handlebar in 3 positions
PTO: Mechanical 1200-3000rpm clockwise rotation and hydraulic implement drive
Attachment: Kersten Quick-Attach70M system
Dimensions: W 76cm. – L 110cm. H – 127cm.
Weight: 119kg.
Vibration: Low Vibration 2.7m/s²
Sound: Low Noise <82dB (Operator's Ear)
Starting: Recoil (electric option)
UBS EASY 13
Type: Two Wheel Hydraulic Power Unit
Max. angle: 15 °
Engine: 13hp Honda petrol engine – GX340
Transmission: Hydraulic transmission 12 lt/min pump 160 bar
Travel: Forward and reverse direction with differential 0-6km/h
Axle load: 300Kg.
Handlebar: Adjustable handlebar in 3 positions
PTO: Mechanical 1200-3000rpm clockwise rotation and hydraulic implement drive
Attachment: Kersten Quick-Attach70M system
Dimensions: W 76cm. – L 110cm. H – 127cm.
Weight:  125kg.
Vibration: Low Vibration 2.7m/s²
Sound: Low Noise <82dB (Operator's Ear)
Starting: Recoil (electric option)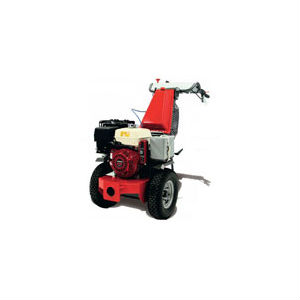 UBS HYDRO 14
Type: Two Wheel Hydraulic Power Unit
Max. angle: 20°
Engine: 14hp Briggs & Stratton Vanguard – 469cc.
Transmission: Hydraulic transmission 18 lt/min pump 160 bar
Travel: Forward and reverse direction with differential 0-6km/h
Axle load: 600Kg.
Handlebar: Adjustable handlebar in 3 positions
PTO: Mechanical 1350-3400rpm clockwise rotation
Attachment: Kersten Quick-Attach70M system
Dimensions: W 75cm. – L 142cm. H – 127cm.
Weight: 160kg
Vibration: Low Vibration 2.7m/s²
Sound: Low Noise <84dB (Operator's Ear)
Starting: Recoil (electric option)
UBS MASTER 18
Type: Two Wheel Hydraulic Power Unit
Max. angle: 30 °
Engine: 18hp Briggs & Stratton Vanguard – 570cc.
Transmission: Hydraulic transmission 12 lt/min pump 160 bar
Travel: Forward and reverse direction with differential 0-6km/h
Axle load: 3600Kg.
Handlebar: Adjustable handlebar in 3 positions
PTO: Mechanical 1200-3000rpm clockwise rotation and hydraulic implement drive
Attachment: Kersten Quick-Attach70M system
Dimensions: W 76cm. – L 110cm. H – 127cm.
Weight: 125kg.
Vibration: Low Vibration 2.7m/s²
Sound: Low Noise <82dB (Operator's Ear)
Starting: Recoil (electric option)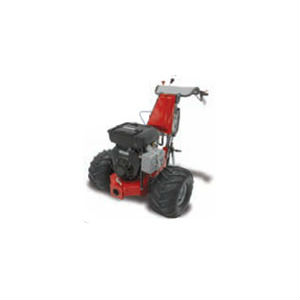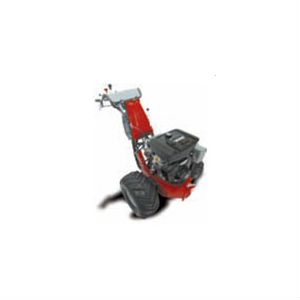 UBS ALPIN 23
Type: Two Wheel Hydraulic Power Unit
Max. angle: 45 °
Engine: 23hp Briggs & Stratton Vanguard – 570cc.
Transmission: Hydraulic transmission 21 lt/min pump 250 bar
Travel: Forward and reverse direction with differential 0-6km/h
Axle load: 3600Kg.
Handlebar: Adjustable handlebar in 3 positions
PTO: Mechanical 1350-3400rpm clockwise rotation and hydraulic implement drive
Attachment: Kersten Quick-Attach70M system
Dimensions: W 75cm. – L 142cm. H – 127cm.
Weight: 225kg.
Vibration: Low Vibration 2.52m/s²
Sound: Low Noise <84dB (Operator's Ear)
Starting: Electric Start
To see what attachments you can fit, see our Kersten attachments page
For more information about Kersten machines why not give us a call, pop in the shop or visit Kersten's website